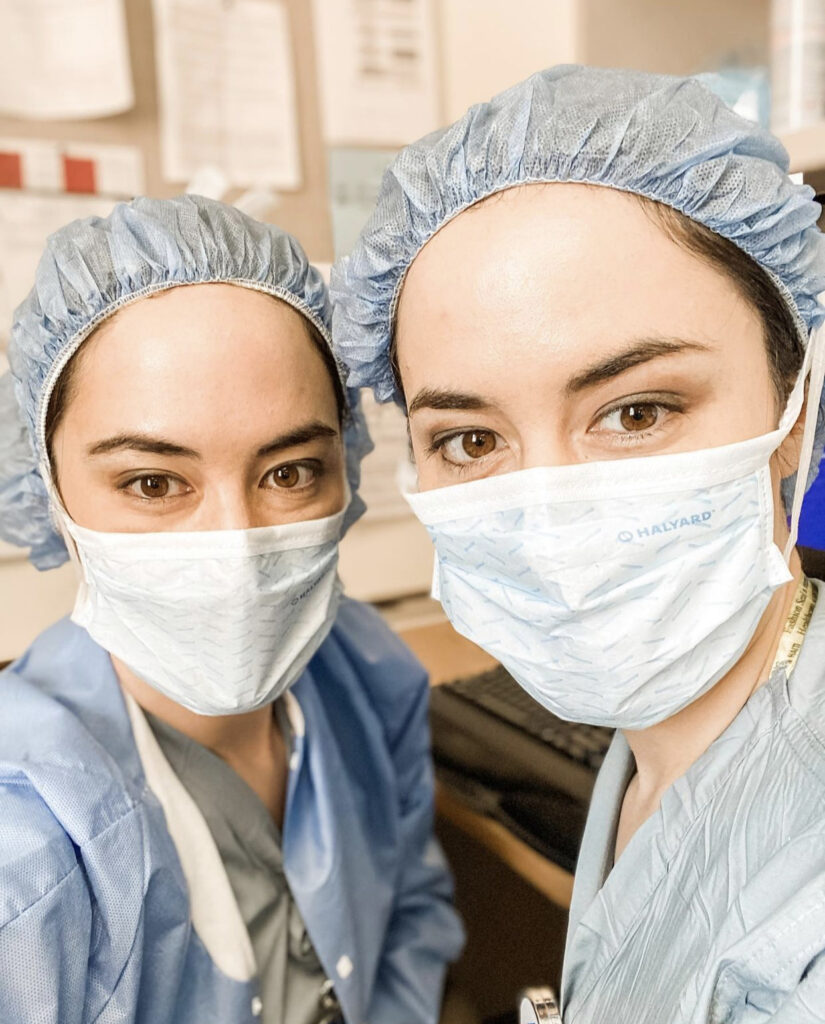 For the last six weeks, life as we know it has been on hold. Major cities once filled with people are eerily deserted, quiet, solemn. Grocery store shelves are as empty as their aisles, and the occasional passerby doesn't even exchange pleasantries: they are in there, mask on, on a mission to get in, and then rush out.
No mission is greater than that of healthcare workers. Where streets are empty, hospital beds are full, and for more than a month, doctors all over the world have been united in fight against a common enemy.
Identical twins Christina and Jennifer Rhee are attending physician anesthesiologists at the same hospital in metropolitan Detroit.
Working on the front lines in one of the country's hardest-hit cities, the Rhees anesthetize and place breathing tubes in COVID-19 patients with severe lung complications.
With surgical volume for routine procedures significantly decreased during the pandemic, the duo say their day-to-day consists of treating emergent and and emergent cases of the virus, with the occasional laboring mother.
"You open the computer chart, and it's literally a whole floor that just says COVID, COVID, COVID, COVID," Jennifer says, then her voice trails off. "The floors that used to be the cancer floors … it's now this whole wing of all COVID patients. You kind of feel like you're walking through hell on one of those floors."
Both with young children themselves, the women have to have someone physically hold their kids back from them at the end of every day before they come near them. Before they can hug their kids, the Rhees take showers and sanitize everything that came with them to the hospital that day.
The weight of the responsibility is palpable: the strict change in protocol alone adds a feeling of unease that ensures doctors never forget what they are up against.
"Normally the operating room … Sometimes we complain that it's so busy, and now we say that we'd rather have it be busy than this eerie feeling," says Jennifer. "You're just waiting for that call to go to the floor and intubate the patient."
While N95 masks are successful in preventing the spread of the virus, they hinder human connection. According to Jennifer, she often passes by colleagues without even recognizing them.
As anesthesiologists, Jennifer and Christina are the last person a COVID-19 patient sees before they are intubated. Typically a source of comfort to nervous patients, the physicians feel that while connection is more important than ever, they have never felt more detached from their patients.
"Just having to protect yourself, and constantly wearing the mask and the gloves and everything, it has taken away some of that patient interaction," Christina says. "I feel like I'm more of a bubbly person, and I like to talk to my patients and smile, but I almost feel like they can't see that."
But, according to Christina, behind the masks are doctors and nurses with "a new type of sympathy" for their patients.
"It's just really difficult that they're alone," says Christina. "That's just so heartbreaking. A lot of them are dying alone."
Through it all, Christina says doctors and nurses continue to show up and be there for their patients when, physically, no one else can.
"I feel like a lot of people have stepped up and became family to them."