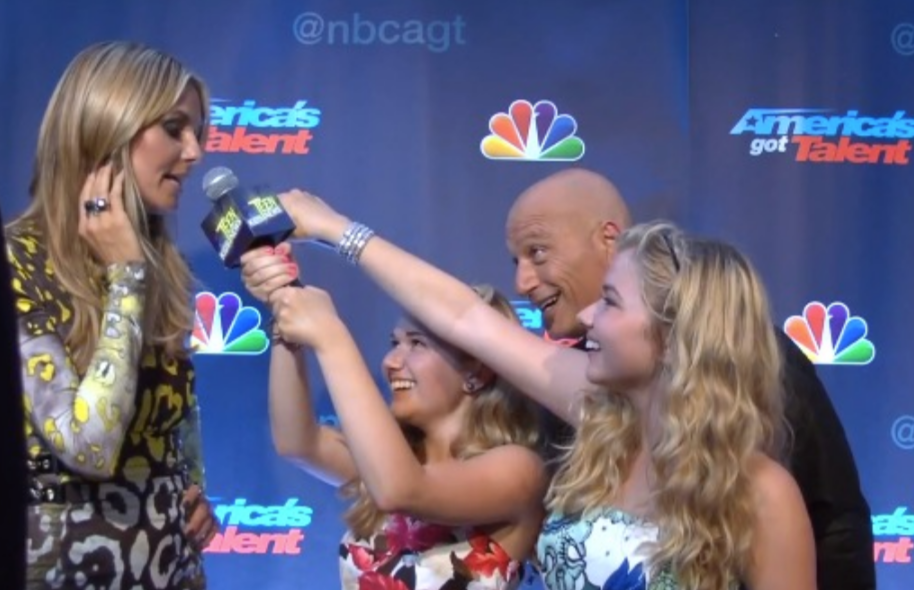 By Cailin Loesch
America's Got Talent has always been for me what my sister and I call a thing. It is a TV competition show that, over the course of the last ten years of our lives, became a tradition and a notable part of each of our summers. My summer memories include sitting in the basement, laughing with Hannah and my friends over bad auditions and crying over the winner announcement just as much as they include trips to the beach and days at the pool. I've seen the judges come and go, but if you know me, you know that the panel that will always stand out in my mind is the one made up of Mel B, Howard Stern, Howie Mandel, and Heidi Klum. Two years ago, in 2013, Hannah and I set off on our first long-term adventure since we began working as teen journalists. Now, in 2015, as I reflect on my experiences over the past few summers, my mind is exploding with moments. What better way to celebrate the first night of the live shows of season ten than by writing about the people who have been running the show since it began?
I've known Mel, Howard, Howie, and Mel for over two years now. Of course, when I say "know", I mean in a certain context. I don't know what they are like when they are on vacation or in a crisis or hanging out with their families. But I can tell you exactly the impression each of them have left on me, in the two summers we've all seen each other nearly every week at America's Got Talent.
Before she became a judge, I knew Mel B as, surprise surprise, a Spice Girl. In fourth grade, our friend group included two English girls who assigned themselves Spice names and would often talk about The Spice Girls at recess. In 2012, I remember seeing them performing for a reunion on the summer Olympics, and texted my best friend about it because she, along with the rest of our friend group, was the sole reason I could put each face with a nickname. That was my knowledge of Mel B: she was Scary Spice and she was the one with the cool hair who does the rap in Wannabe.
Now, a few years and many chats at Radio City later, I can tell you that Mel B is, excuse my pun, not scary at all. It's obvious in the way that she speaks to my sister and me that she has a teenage daughter of her own. She's always calling Howie out for his "inappropriate" humor during our interviews. During the season 10 premiere pajama party, when Howie, Mel, Hannah and I sat down at the edge of a bed at the Central Park Ritz Carlton hotel for an interview about the new season, Mel dove right into a series of questions for my sister and me – when did we turn 18? what did we do for our birthday? where were we going to college? were we living on campus? – before making a joke about being nosy. I was amazed at the genuine interest she seemed to have in our story, even though we were there to hear hers.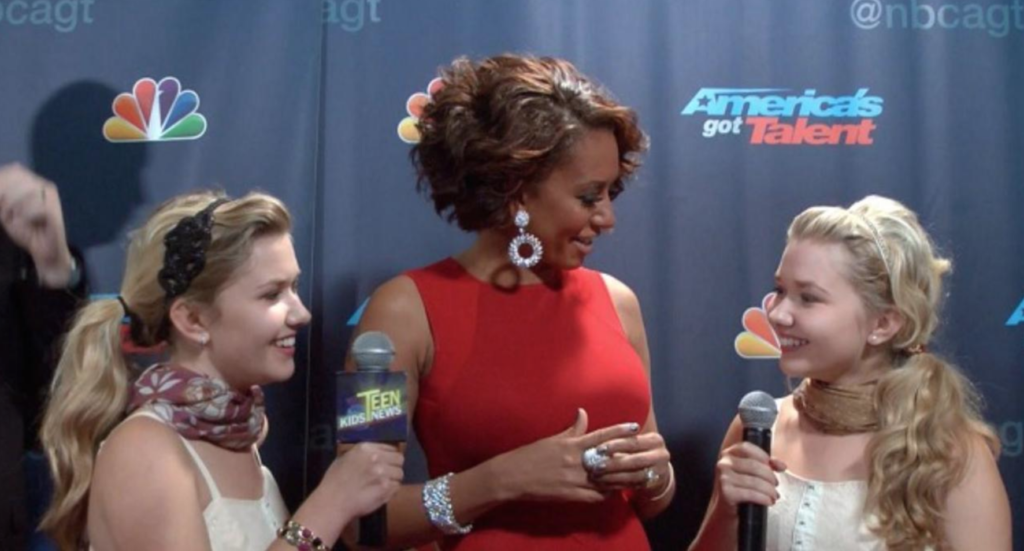 Since Mel first joined AGT, I've spent my fair share of time watching Spice Girls documentaries and reading their Rolling Stone features. I've even seen every episode of Mel B: It's A Scary World. I could tell you anything about Mel B's amazing career, pre-and post Spice Girls. But whenever I speak with her, I always seem to forget that she was part of the biggest thing to come out of England since The Beatles.
Howard Stern existed in my pre-AGT life as a voice never heard but sometimes talked about. Of course, when Hannah and I were kids, our parents didn't play his radio show with us in the car. But every once in awhile, he would come up in a conversation with our dad. Dad called Howard "The King of All Media", and said that his radio broadcasts were unlike anyone else's. Apparently, Howard would get so out of line sometimes that he received complaints from the FCC, and eventually had to move to Sirius to escape regulations.
He was a "shock jock," Dad said. That meant that his words had some serious power.
I remember being in elementary school when the whole concept of Howard Stern began to feel elusive. He was that scary guy who broke the rules of radio and could make his guests say things that they would never say anywhere else. I didn't know what he looked like, but I could picture it: he probably wore a long black cloak with a hood and never showed his face, like the Grim Reaper or something. He was an entity of a man, and I'd probably be terrified if I ever ran into him in the street.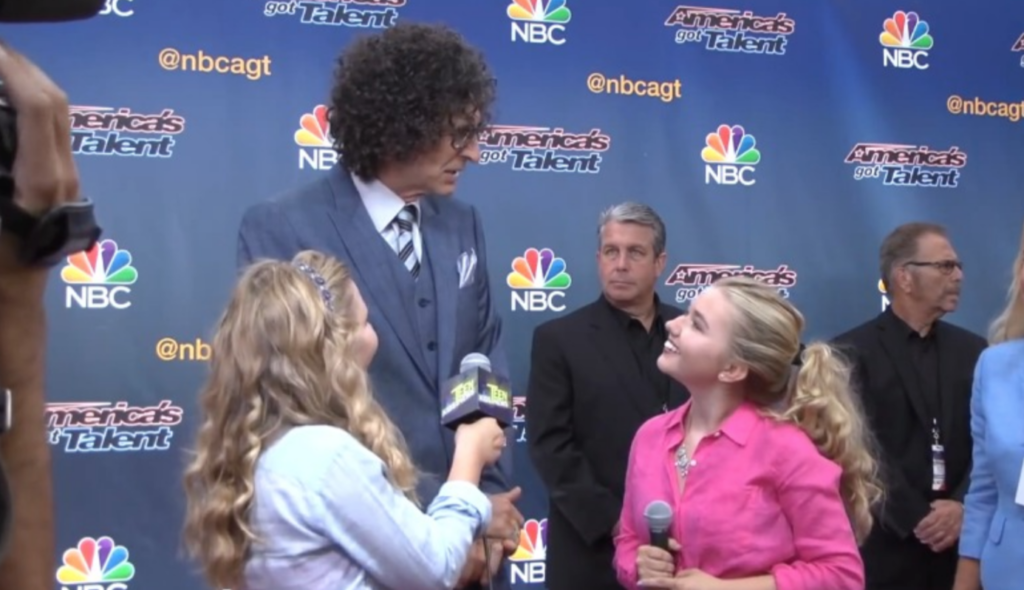 I can tell you, with all honestly, that the time I first interviewed Howard Stern was the most nervous I've ever been about an interview. It was the summer of 2013, and I was at the very first live show of season eight. My first time covering AGT. I was sixteen by then, and had already seen Howard as a judge the entire previous season, but in that moment, the image of him getting his photo taken in the flesh took me back to the pre-conceived notion I'd had all those years. He was about twice my height and had a very serious look on his face. I was legitimately shaking and panicking to the point of feeling faint. Looking back now, that story is absolutely hilarious to me. It was right before I learned an invaluable life lesson: don't judge a book by its cover, or by its radio front.
When I talk to Howard Stern, I now feel unusually comfortable. We aren't having a conversation to highlight the excitement of AGT as simply a means of promotion. Not that that's how our conversations with any of the other judges or the contestants go, but with Howard, there is a completely new level of honesty and openness to discuss and look deeper. Maybe it's because I've listened to so many of his interviews on his radio show, but whenever I find myself next to Howard, I immediately fall into this mindset of "Okay so what's the deal with this." It has less to do with what he says and more with how he says it, and the look on his face, and his quick reactions. It's who he is. He truly wants to tell you the truth as much as he wants to get it out of other people. And aside from all that, you just get this vibe when you're standing next to him that's kind of impossible to explain. Ironically, he's got a friendly aura about him that you can feel in the air even when he's got his sunglasses on and is listening intently to what you're saying. He smiles, too, just so subtly that it doesn't even show on camera most of the time. You can trust me, though. Every time, I see it twice simultaneously: once in the real world, and once in the reflection of those glasses he always wears!
Howie Mandel has been a household name in the Loesch family for as long as I can remember. When I was in third grade, I was absolutely obsessed with Deal or No Deal. Oftentimes, on school nights when I should have been sleeping, I would sit on a pillow on the floor in front of my ten-inch TV, watching reruns and wondering whether or not anyone had ever actually gone home with a penny. On our first trip to Splash Lagoon, Hannah and I took a hike up to the arcade and spent hours hanging out with Virtual Howie at the Deal Or No Deal game. One time, Hannah hit one of the lower-right-column jackpots and walked out of there with a quarter of a million tickets. She won a lava lamp. I'd never been that jealous in all of my life.
In fact, so many of our childhood memories involve Howie that Hannah recently suggested we keep the trend going into adulthood. She strongly believes that the Stellaris Casino in Aruba needs a Deal Or No Deal game in order for her to have any shot at winning anything out of double digits on our next visit. She said that Howie's friendly smile flashing on the screen right after a big win isn't something that she wants to allow to hang back in her past. I tried to tell her that it was enough that we had seen his friendly smiling face in person many times during our teenage years, but she didn't seem to think that cut it. I can't really blame her: Howie is a pretty fun person to have around, digitally or in-the-flesh. I never know what to expect when I'm standing next to him, and it has given me a lot of great memories from my summers at AGT.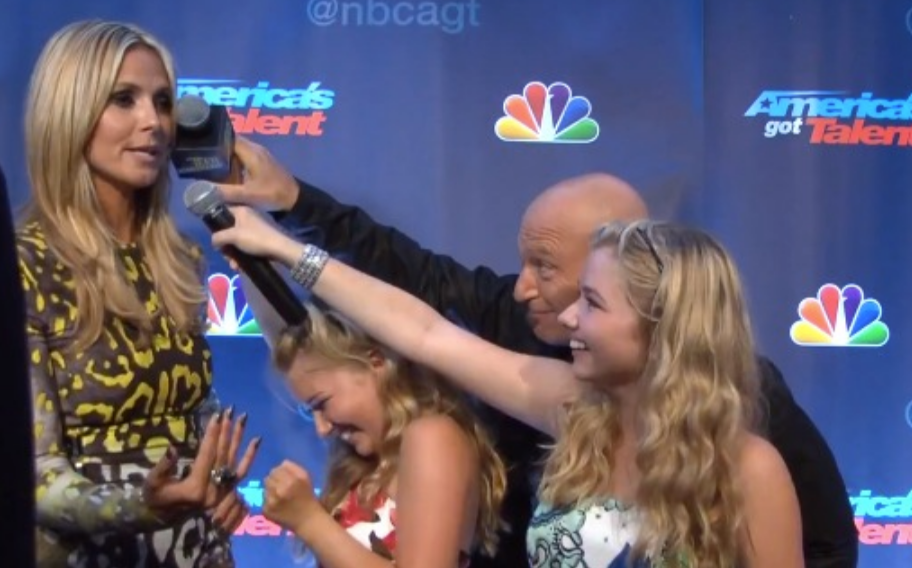 The best thing about Howie Mandel, though, is that he can be just as nice is he is funny. I will never forget the time this truly hit me, and it is a moment that I don't think I will ever forget in detail. We were standing on the red carpet during our last visit of last season, and had just given Howie a copy of our book with a letter inside expressing our thanks for all of the good times we'd had that summer. He thanked us so sincerely that I could feel it in my heart, and then asked us if we would please sign it for him. He turned to the people on the other side of the red carpet and asked if anyone had a pen, and a publicist pulled a Sharpie out of her purse and gave it to him. Then he opened up the cover and flipped to the first page, pointed to a blank spot near the title, and handed it to us. I was so humbled that my hand shook as I signed my name. I looked at my sister and knew that she was just as honored as I was. It still stands as one of my favorite memories from covering the show, and I respect Howie so much for it. And of course, the fact that he is a legendary comedian.
Lastly, let me begin talking about Heidi by describing the moment she became interesting to me beyond the whole supermodel thing. It was probably about five summers ago, and I was online, watching old episodes of what was once one of my favorite shows: I Get That A Lot. If you haven't seen it, first of all, I am forcing you to watch it as soon as possible. It is TV gold disguised as a reality show about celebrities pretending to work a day job to the confusion of all who recognize them.
Anyway, Heidi was featured on the show's premiere episode. She was posing as an LA girl named SaraJane who worked at a local pizza shop. Her hair was tied up in a messy bun and she was wearing a white T-shirt with the restaurant's logo on the front, and was beyond hilarious in her interactions with customers. She has a great sense of humor and humility, and was the reason that I got so hooked on the show.
The first time I met Heidi was a moment I will never forget. We were in the middle of our very first interview with Howie, and all of a sudden she walked up and joined us. I was completely and totally thrown off to begin with, and that was before Howie grabbed our microphones and made us literally push them into her face and rest them on her forehead as she spoke. I think the idea was to play into the fact that we looked so young and could pretend like we had no idea how to hold a microphone, which now that I think of it, could have been pretty funny had we been brave enough to go all the way with it. I had a moment of internal crisis when I realized that I was in a lose-lose situation: either Howie thinks we're lame because we refuse to comply with his joke or Heidi thinks we're insane. So basically, Heidi Klum's first impression of us was that we were out of our minds.
Anyway, later that night, after we had finished our last interview and were getting ready to head inside to see the show, there was a moment that reaffirmed the impression I had of Heidi since I Get That A Lot (as if it wasn't enough that she didn't even flinch when we put our mics in her eyebrow). Hannah and I were standing there talking to each other when all of a sudden Heidi walks up and puts her head in between both of our shoulders. She leans down and asks "What are you doing?", knowing darn well that we were talking about her and our crazy interview earlier. And then we just started having a conversation. In fact, the conversation continued until Heidi's publicist came to get her and take her inside to assume her position at the judge's table. I was entirely blown away for the rest of the night. I remember sitting in the front row of Radio City Music Hall not twenty minutes later, and watching her and the other judges give their comments to the first performer of the night. I kept switching my focus from the four of them in the flesh and the four of them on the monitor which showed how the shot appeared on television, and just thinking back to a few minutes ago when we were all talking on the red carpet together. I had a legitimate out-of-body experience at the realization that I was sitting there watching one of my favorite TV shows being made, right as it was happening, at the same time that millions of other fans were watching it live on screen. And then it hit me: Radio City Music Hall is the most exciting place to be on a summer Tuesday night.
A couple weeks ago, Hannah and I were in Tennessee sitting in folding chairs on our Grammy Linda's back porch. We had just asked her to tell us a story about anything that comes to mind, as we always do, but she quickly turned the tables on us and said that she wanted to hear a story from us first. Then she said, and I'll never forget this: "I watch every one of your interviews on the computer. I always wonder, what is going through your minds when you're standing there with your microphones?"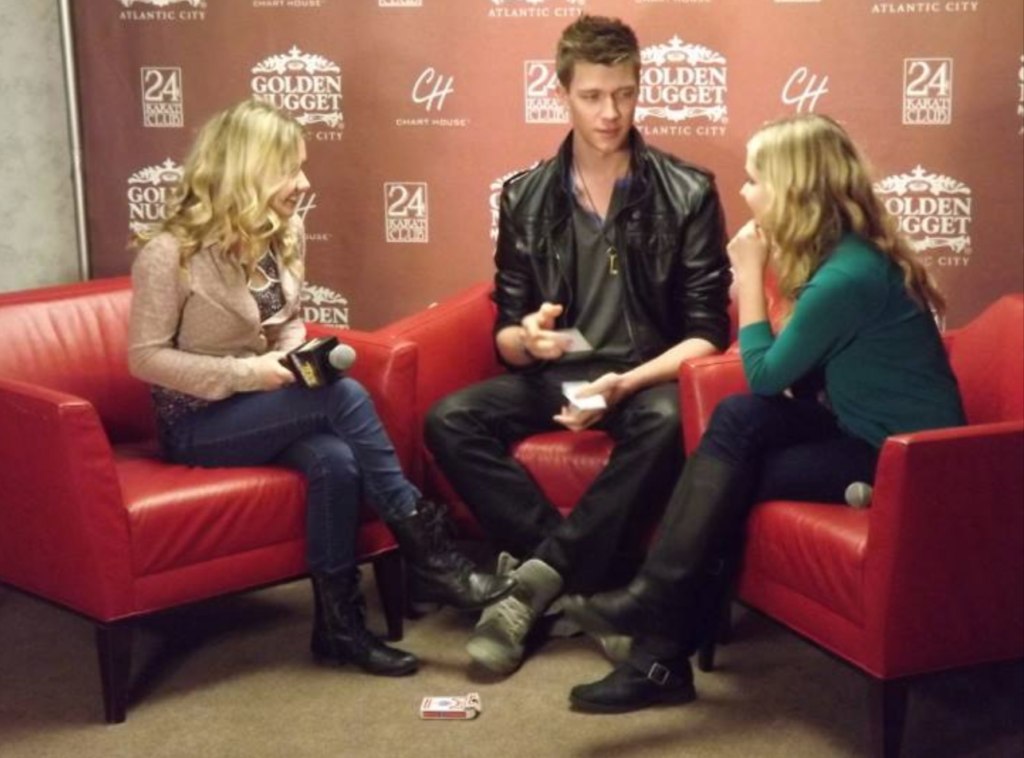 The best way I can summarize my experiences on the America's Got Talent red carpet is by describing what stands out to me when I think about them. I think, firstly, about my interviews with the contestants. I think about how oftentimes, when Hannah and I interview a contestant, we are experiencing with them the first interview of their careers. So I think about doing my best to make them feel comfortable and open and happy to tell their story in the way they want it to be told for the first time. Red carpet interviews should be light and fun while still giving the performer a chance to let their audience know more about them. So going back to what Grammy Linda said, during interviews I think about what I need to do and say to make that happen. And with AGT, the goal is always to showcase the excitement that I feel while I'm there and share it with other fans of the show. That is literally what I think about every single time I hold the microphone.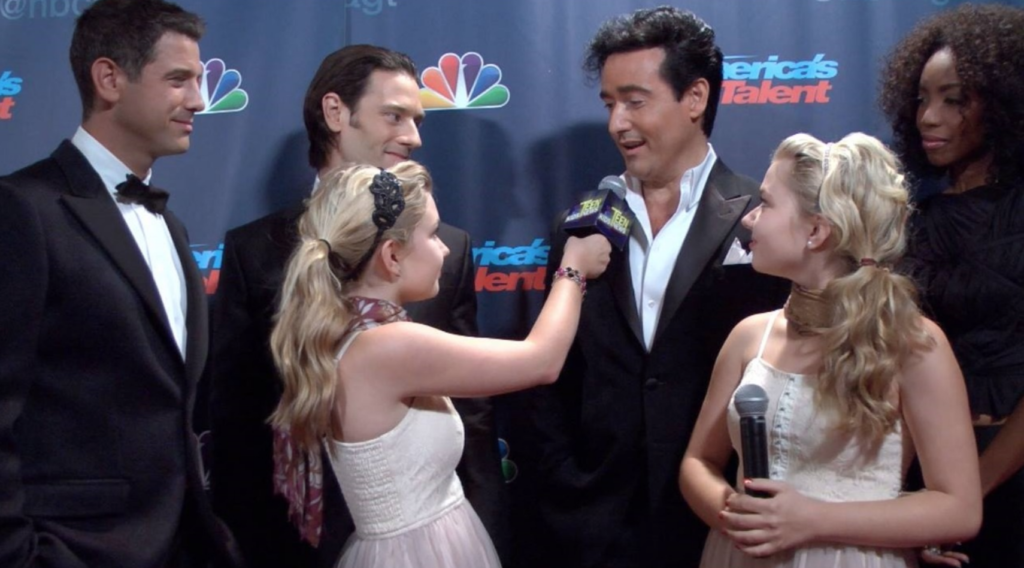 Of course, as I learned later on during that conversation in Tennessee, Grammy Linda was trying to decide whether or not I am ever quietly losing my mind or having an internal crazy fan moment or worried sick about looking like an idiot while talking to a celebrity. And of course, sometimes I do. Honestly, it's what makes it fun and interesting and it gives me lots of stories. But I also have this constant awareness all the time that I'm just a person talking to another person and that I'm not always going to say exactly what I wanted to say in that moment, in the exact way I would have wanted it to be phrased. In fact, not only am I a person, I am a teenage person, and what I get to do with my sister is so much fun.
My sister and I will not be returning to America's Got Talent for the live shows this summer, but the memories and lessons from the past two years will never be far from me. The two of us are about to head off to college in New York, where we will both be studying journalism, and I can tell you right now that America's Got Talent was perhaps the best crash course available for preparation. The past two summers, we learned more than any journalism class could teach, all because we were there, microphones in hand, with no choice but to face trial and error and go from not having any idea what we were doing to feeling comfortable enough to take college on with no fear. I will always be grateful.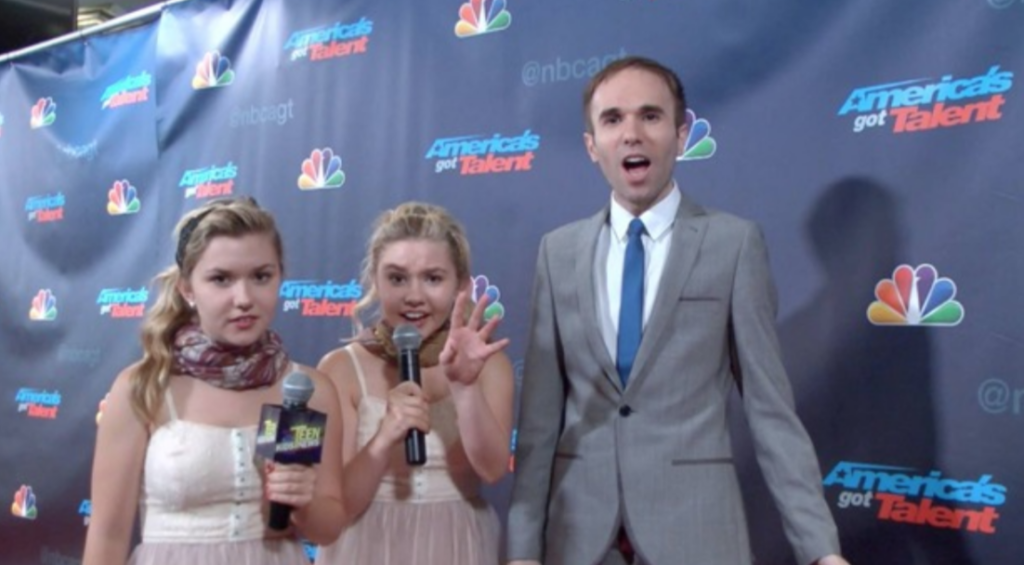 And yes, I will be watching the first live show tonight. 8/7c on NBC.