Original briefcase model Patricia Kara on the evolution of Deal or No Deal, Howie Mandel, and how the CNBC reboot is different.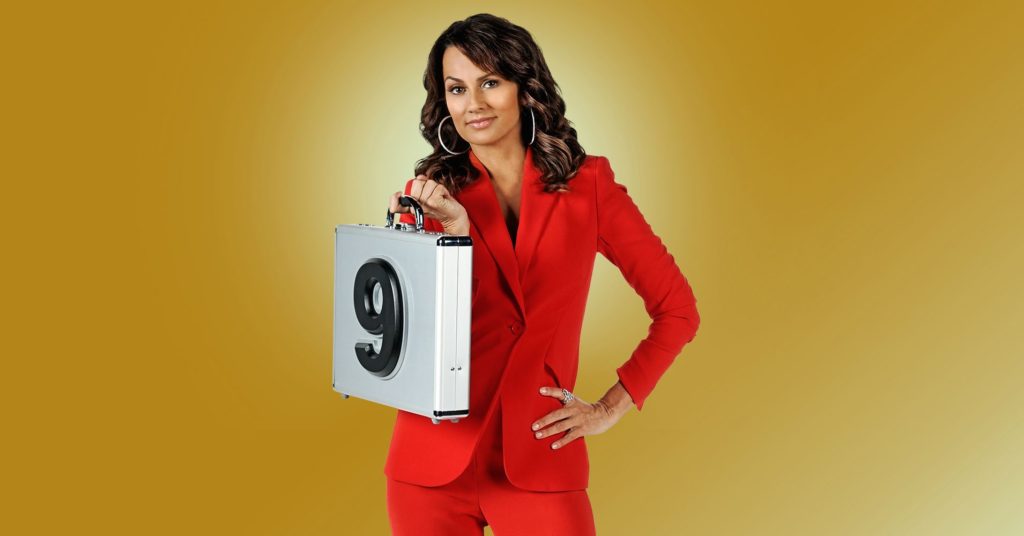 You know the game: a contestant blindly chooses from 26 sealed briefcases containing a marker for various amounts of cash. The player then begins to eliminate the remaining 25 cases, and one by one the amount of money inside each is revealed. After several cases are opened, the player is tempted by a mysterious, silhouetted Banker to either accept a cash prize offer—usually somewhere between what is already lost and what is still on the board—or continue the game and possibly win a much larger sum of money.
If luck is on their side, by the end of the game this everyday person could go home a million dollars richer; if it's not, they could walk away with a single penny. For many late millennials, it wasn't Bobby's World, St. Elsewhere or comedy specials that made Howie Mandel a household name: It was Deal or No Deal.
But what about the women holding the cases? Briefcase model #9, whose name is Patricia Kara, has seen the complete evolution of the show throughout the years. She's been the keeper of the ninth case since the original Deal Or No Deal series from 2005–2009. She was there for the daytime Deal or No Deal series from 2008–2010. And in 2018, when CNBC greenlit a Deal or No Deal reboot with Howie Mandel, Patricia was signed on immediately. Now, to celebrate the full swing of the reboot's first season, we are chatting with #9 herself about the evolution of Deal or No Deal (there's now a female banker!), Howie Mandel, and what it's like to be back.
Cailin Loesch: How did Deal or No Deal come about for you? I know this is going way back, but it must be so surreal for you to think about how much that first step in the process changed the rest of your life!
Patricia Kara: It has changed my life both personally, and professionally, since the beginning. And honestly, I didn't think they would bring me back for the reboot. I thought they would just go from the younger generation, and that's it. So it's been a pleasant surprise, and I'm really, really psyched to be back! I first got the audition through my hosting agency based out of New York—not even one of my modeling agencies. Nobody called me because they actually thought I was too old for the show back then!
Hannah and Cailin: Oh, wow!
Cailin: They were wrong, apparently! [laughs]
Patricia: Yeah, I really appreciate the fact that my hosting agent called me. There weren't many details about it, so they just said, "Go to this audition, and it's a personality kind of an interview." I went in, and had no idea what I was getting myself in to. I just knew that it was a game show. And once the show hit, it was unbelievable. It's been quite the ride ever since, I have to tell you.
Hannah Loesch: So, it was the kind of audition where you went in a room and sat in front of a camera, and just answered personal questions? Did any of the questions lead you to guess what sort of thing it might be?
Patricia: No, no idea! The first interview was just this guide sitting on a medicine ball! [all laugh] He had a little camera, and he just sat there and said, "Tell me a little bit about yourself." And that was it. The callbacks were different. It was me and a bunch of other ladies auditioning in the room together, and there were a panel of judges, from the producer to the stylist, to people from the production company … It was different because you were listening to everybody's audition, and you had no idea what they were looking for. And then once I got to the job, I heard it was Howie Mandel, and I was like, "What? I know who Howie is!"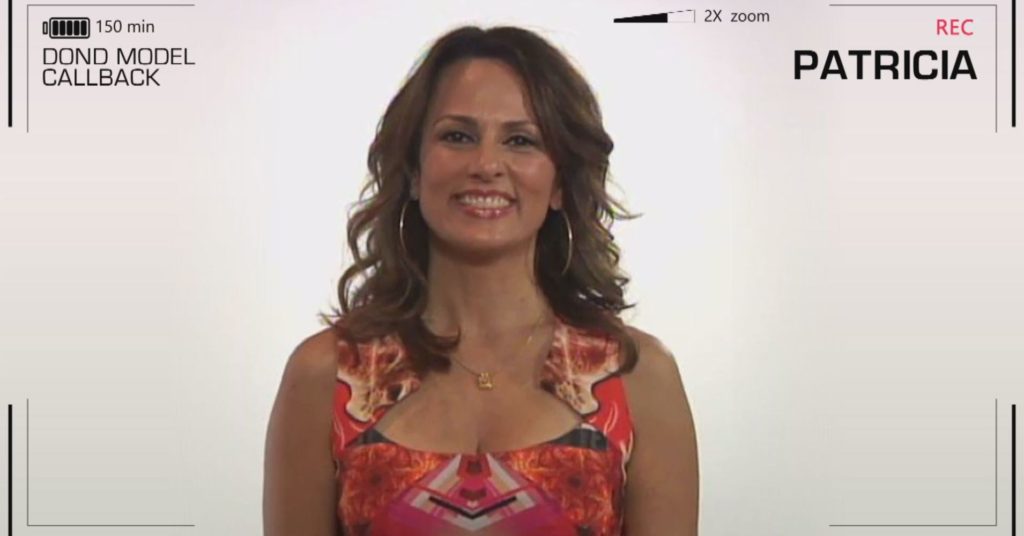 Cailin: So, at that point in your career, obviously you were doing modeling, and you were doing hosting … When you first found out that you were going to be on the show, and as you continued to come back year after year, how did you fit that in your career then, and what you wanted to do in the future?
Patricia: It's funny, because when we did the show, in the beginning, it was a three-day job, and I thought that was going to be it. I thought that just like any other job I'd had, in modeling and in hosting, I'd move on to the next job. But I remember one of the producers saying to me, "Just wait, this is going to take off." I thought, yeah, yeah, everybody says that. I was like, "That sounds great, I hope it does work out that way." And he said, "This is going to be different than anything else. Just get ready." And, sure enough, as soon as they aired it on NBC back then, it took off. We never knew we were coming back; every few weeks they would call us and go, "here are your dates for the next show, here are your dates for the next show." So, we never had this set plan, and then it just kept going. I was like, okay, I'm going to ride this wave. This is a consistent job, and it's a great platform. It opened other doors to other modeling jobs, to hosting, I got to do Extra, Fox Movie Channel, interview people on red carpets and press junkets… it was exciting to all of a sudden be on this show that took off. I can't say enough about it, and I'm excited to be back because it just goes hand-in-hand with everything I have been doing for so long.
Hannah: That's kind of crazy that it was this thing of, "Oh, here's your dates for the next couple!" So it wasn't even this long-term, contracted thing.
Cailin: She didn't even know yet that it was that secure of a job!
Patricia: I had no clue!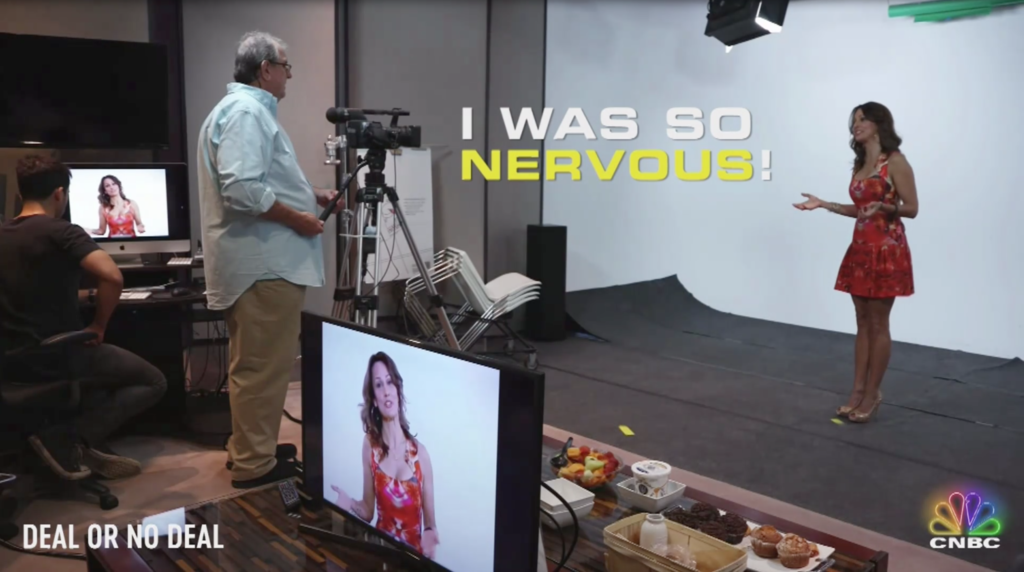 Hannah: I've been wondering this since I was watching when I was little, and I feel like it would be a huge mistake not to ask you now that I've got the chance. The lowest amount on the board a person can win is one cent—what would happen if someone won a cent? Would one of the producers just toss them a penny? Have you ever seen that happen?
Patricia: I think somebody did win a cent! Back in the day, somebody actually did win a cent. Can you imagine receiving that check? One cent? You've got to frame it, at that point.
Hannah: What would that be after taxes? [all laugh]
Patricia: I do remember a five-dollar win that we had. They said they never cashed it; they just framed it.
Hannah: That's what I would do! What's the highest cash prize you've seen someone win?
Patricia: In the past, we've had a million dollar winner. For the reboot, I can't reveal anything! There may or may not have been [a million dollar winner.] But the girl who won it in the past was actually so calm about it. She was like, "Yeah, I knew I was going to win it." She told me she had done a vision board with her family, and knew what cases would be left, what amount she would be offered, and what she would win. And it turned out exactly that way.
Cailin: It's like The Secret by Rhonda Byrne! Do you remember that?
Patricia: Yes! Exactly!
Cailin: So, you've been doing this a long time. It's your steady job at this point. Do you ever still feel the intensity and the excitement of the moment, like what the contestant might be feeling?
Patricia: Oh my gosh, you really get in to it. When we are called off the stage, we have a TV set, and we continue to watch the show as it's happening. We are screaming at the TV. They've had to tell us to quiet down many times, because they are taping the show and they can hear us. It's so intense—and even when you are on stage, you are feeling for the contestant. You really want them to win the money, because you hear their stories, and you start connecting with them. I've never cried so much, and I've never laughed so hard in my life. I was never this emotional before Deal or No Deal!
Hannah: Speaking of connecting with the contestants and their stories personally, do you ever know how they spend their winnings? Does that ever get back to you guys?
Patricia: They have had people come back, where they followed up on the families. I actually still talk to a couple of the families that have been on the show, from back then as well as the reboot. They've invested their money in to their families, and their homes—so they've been smart with their money, which is good. It makes me so happy to hear that.
Hannah: I don't know if you're allowed to say this, but do you know what's in your case?
Patricia: No! We actually have a third company that is on set at all times, and they watch us with cameras everywhere. If, let's say, in the middle of a game, a case falls down and opens, we have to start the game all over again. They have to be re-shuffled, and re-done. They hand us our briefcases right before we get on stage. Everything is locked and secured. It's this whole legal thing going on.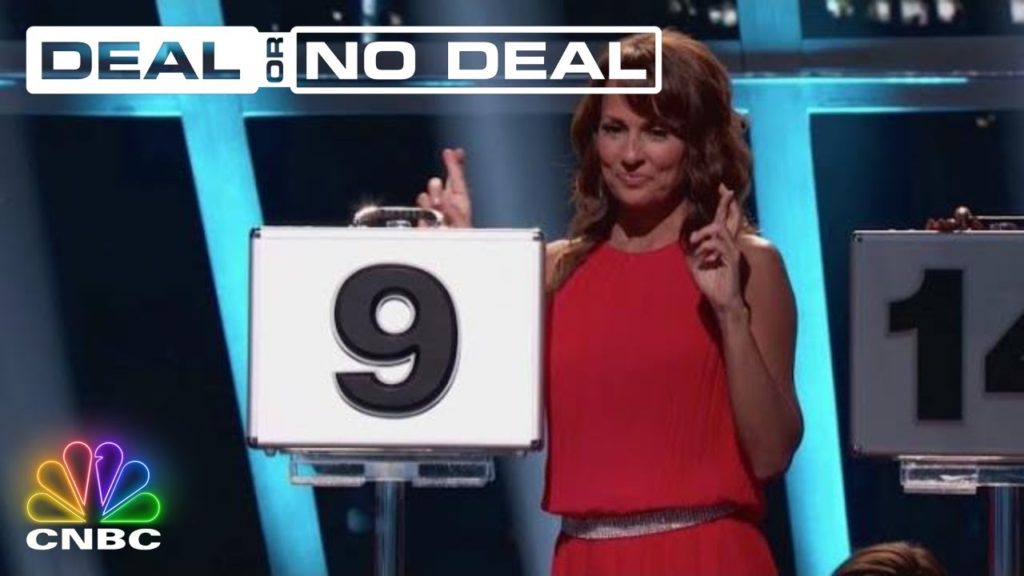 Cailin: Well, that makes it more exciting for you, too.
Patricia: Yes!
Cailin: I know that sometimes when I hear about the behind-the-scenes of these reality shows and game shows, I'm either really surprised by how much the people are able to interact on set, or I hear that they don't talk to each other at all when they are off camera. How well have you gotten to know Howie over the years?
Patricia: I've actually gotten to know him pretty well since 2005, when we started the show. I know his wife, his kids, his grandkids: ever since he's had his grandkids, he's even more of a softie. Like, you should see. And he posts about his grandkids all the time.
Hannah: I know, I love his posts on Instagram. It's so sweet! We used to interview him at the America's Got Talent shows a few years ago, but I don't think we've seen him since he's had his grandkids. I need to meet Grandpa Howie! [laughs]
Patricia: Oh, you do need to see him now; I swear there's a difference. He wears his heart on his sleeve.
Cailin: So, since you've returned, what would you say is the biggest change in the show and the vibe? Does it feel like it was when you first started?
Hannah: Does it feel nostalgic in a way?
Patricia: It really is. And it's crazy, because the first day we were on set, it really hit me, like, wow, this is really crazy to be back, and about to do the show again. There are some similarities, and some differences. We now have a lady banker, and counter offers in between. She has the choice of turning you down or not, and I actually like that aspect of it. But it's really been interesting just being on set, and thinking, here we go again. And another difference is we actually didn't shoot in LA this time around, we shot in Orlando, FL at the Universal property. We got to go to the theme park and shoot some stuff for the show!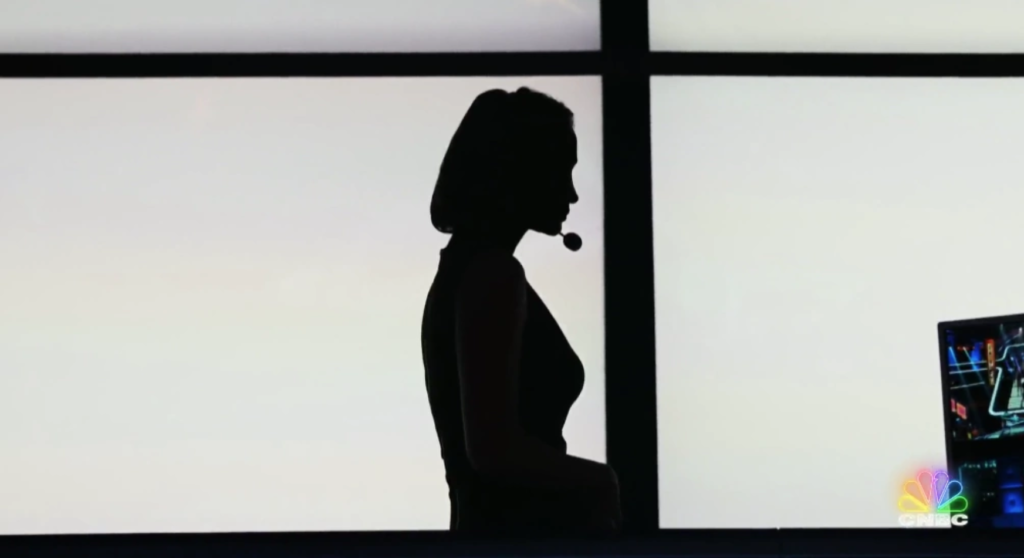 Cailin: As one of the show's biggest insiders, what would you say is the thing about Deal or No Deal that you can tell me, or any other fan, that you think we would find most surprising?
Patricia: I think what a fan of the show would find most surprising is that a one-hour-show takes about four hours to tape. It's a long process, between lighting, technical stuff, camera work, getting everyone prepped, working with the audience members—it takes so much to get everything together. We did three shows in a day, so we had 17-hour days. People don't realize that. They think you go, you shoot for an hour, and then it's done.
Cailin: It's never that easy!
Patricia: Yeah, we're 17 hours straight through. It's pretty crazy, and intense. But all worth it. It's so worth it.
You can watch Deal or No Deal Wednesdays 9P ET/PT on CNBC.