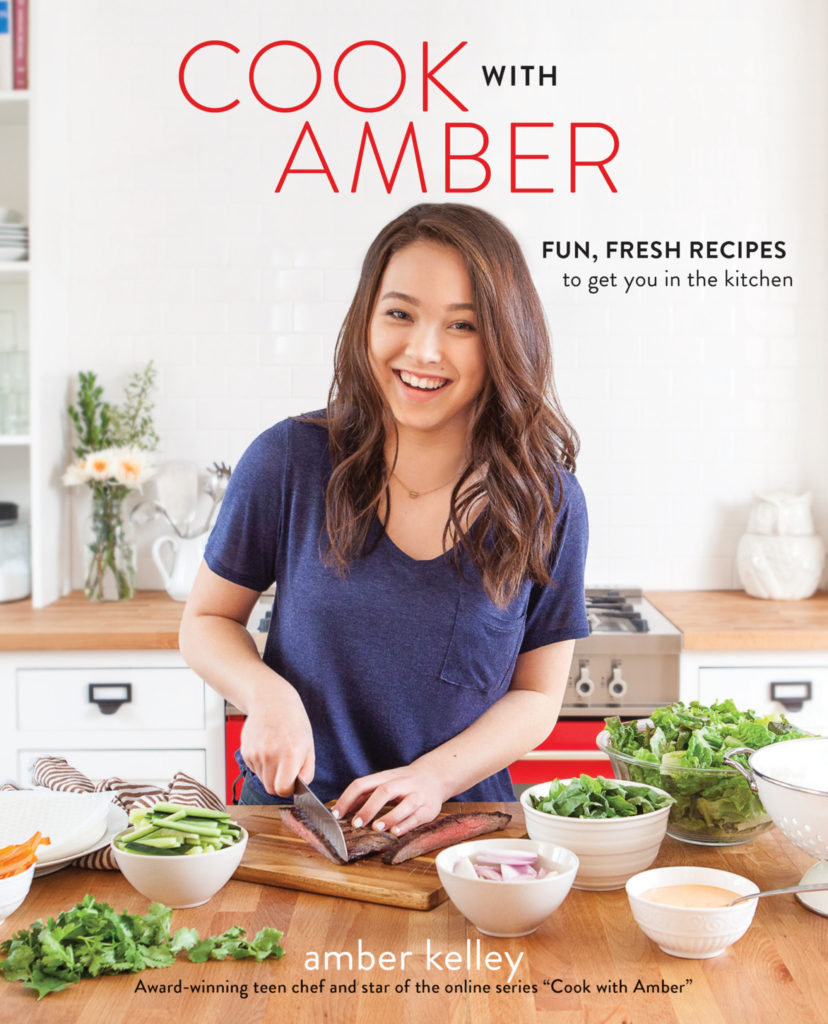 For most teenagers, a day in the life revolves around school, homework, clubs, and just spending time with friends and family. For 15-year-old Amber Kelley, life looks a lot like that, but with one extraordinary difference: Amber is also a professional chef—a title that adds TV appearances (with everyone from Jamie Oliver to Barack and Michelle Obama), meetings with book editors, and lots and lots of cooking to the mix.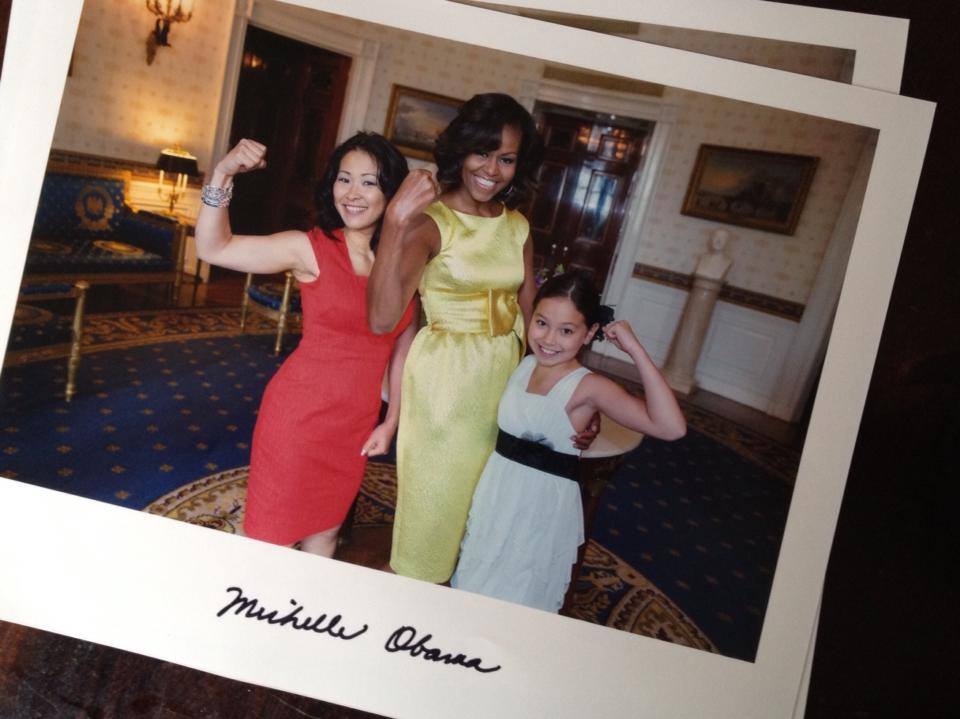 Chatting with Amber on Skype one Monday night, it was easy for us to see why Amber has found so much success. She is polite, well-spoken, easy to talk to, and speaks about fancy-sounding recipes with as much ease as she makes casual conversation.
But cooking isn't the first thing that you'd expect a teen to pick up as a hobby, much less a career, and we are fascinated. We ask Amber how she first discovered her love of being in the kitchen.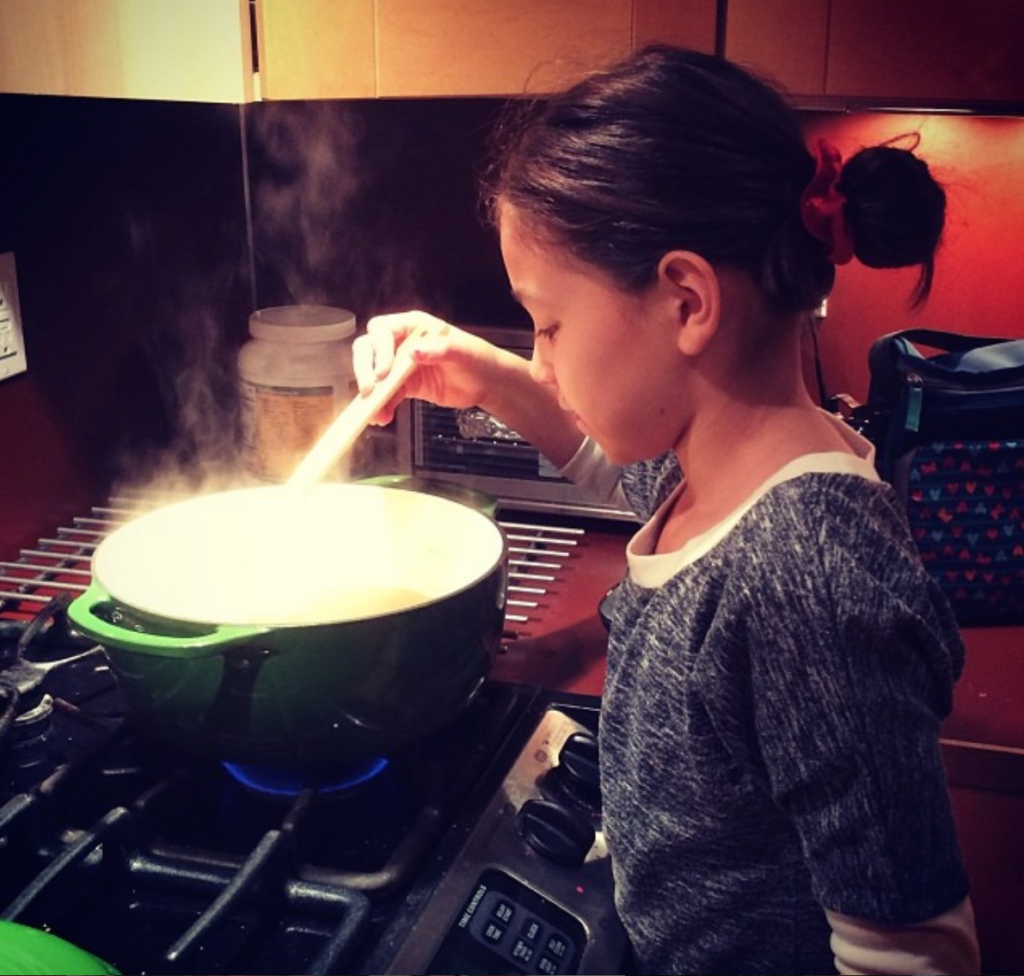 "I didn't have any professional chef parents or anything like that, so I just sort of grew up in the kitchen helping my mom with our family dinners," Amber says.
Family dinners quickly turned to demonstrations for thousands of viewers—Amber not only hosts three online shows, her video blog Cook With Amber, her own web series on www.FoodNetwork.com, and a segment on Jamie Oliver's Food Tube, an online community of chefs—she has also appeared on TV shows from Food Network Star Kids (which she won) and Rachael vs. Guy Kids Cook-Off, to the 2015 Academy Awards' Live From the Red Carpet on E!. Not bad for a chef who hasn't yet earned her high school diploma.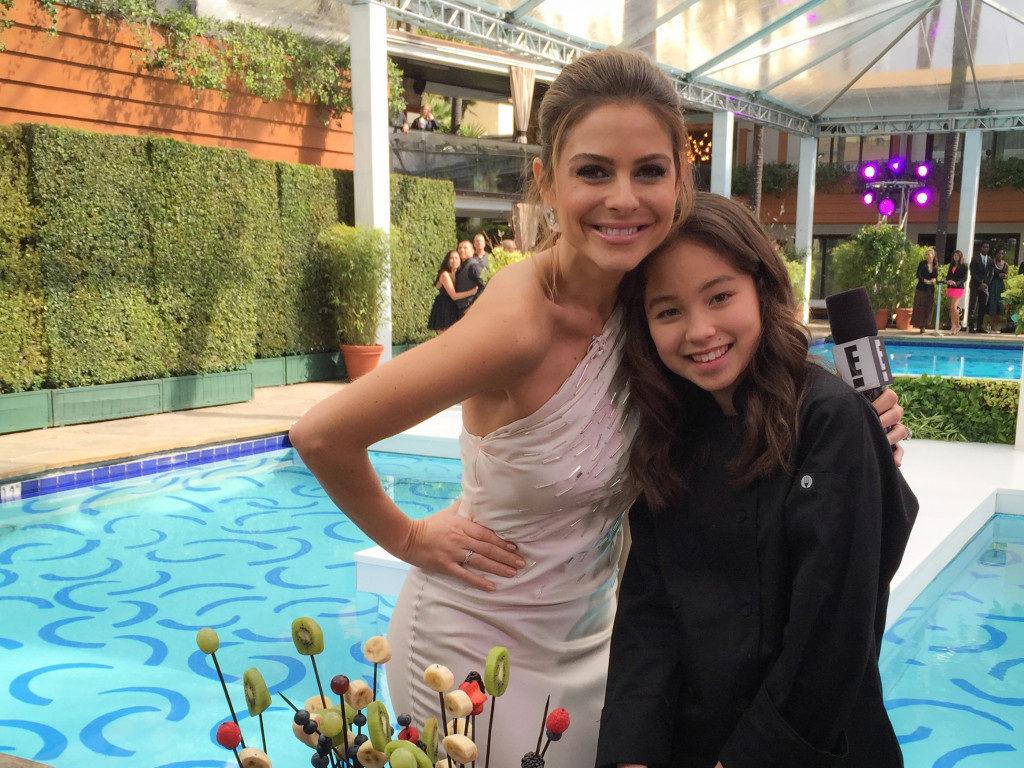 So after Amber had already conquered TV and the web, what inspired her next move—releasing a cookbook?
"Ever since I was a really little girl, I've always wanted to write a cookbook because I feel like there's something so satisfying about having a book in your hands with a collection of recipes that you have displayed in your kitchen," Amber says. "While sharing recipes and videos on my YouTube channel and through TV and Jamie Oliver's Food Tube is great, I really wanted for people to have a collection together that they could hold in their hands and cook from."
The book, Cook With Amber, was released this fall by Running Press to rave reviews and a foreword from Jamie Oliver. It is specifically geared toward kids and teens who are interested in making their own healthy recipes and having fun at the same time. The book-writing process took over two years of hard work from start to finish—way longer than Amber originally expected. But in the end, Amber was able to check another dream off her list, and she was one step further on her mission to being a chef that teens can get behind.
"I knew going into it that I wanted to share the overall concept of fresh, wholesome foods, and to gear it towards teenagers because that's what I know, right? I'm a teenager—I'm not a professional chef, so I'm not going to share these crazy recipes," Amber says. "I know what teens and what kids like to eat, and so that's what I wanted to share, but I wasn't necessarily sure how to take the photos and how to properly write the recipes—all the little details and things like that. So that's where the team came in to help us, but the majority of the ideas and everything I had going in to it," she says.
Luckily for Amber, working on the recipes themselves is no sweat compared to the technicalities of being an author—she has a strong support system in her family who, along with Amber, had their share of ideas as to what include in Amber's debut cookbook.
"Some of the recipes have come from my grandparents, so they've sort of been family recipes, but a lot of them have been ones that my family has tested out over the years and sort of made our own," Amber explained. "Or I'll see things on Pinterest and kind of want to recreate something off of that, but a lot of them have been in our family for awhile and are family favorites, which is why I love them so much—because I grew up eating them."
Of course, it takes a food lover to become a chef, and Hannah wonders out loud which, out of all the dishes that Amber has made in her career, is her favorite.
"I think my favorite recipe [in the cookbook] is actually my favorite food. It's a poached salmon salad. It's got goat cheese and this tarragon herb vinaigrette, and we wrap it in zucchini. It looks so fancy for a 15-year-old girl to like, but I'm serious, it's so good. I had it for the first time when I was five years old, and we called it "I'm in Heaven Salad" in my house because I loved it so much."
Aside from being articulate, Amber also comes off as positive and confident well beyond her years. Hannah, Amber and I start talking about the obstacles that can go hand-in-hand with sharing your passions publicly, especially in the age of social media, and how Amber deals with the people who disapprove of what she does.
"I used to get discouraged—I mean, obviously, if someone doesn't like what you do, that sort of stings a little bit, but over the years I've sort of realized that food is literally an acquired taste, right? So not everyone is gonna like what you make or how you do it," she says. "I've let the comments sort of brush off, but if someone says something like, 'oh, this recipe isn't working,' that's when I have to take the comments and be like, 'well, maybe I didn't write it correctly,' or 'maybe I put in the wrong oven temperature'… But otherwise, I've just gotten used to ignoring all that!"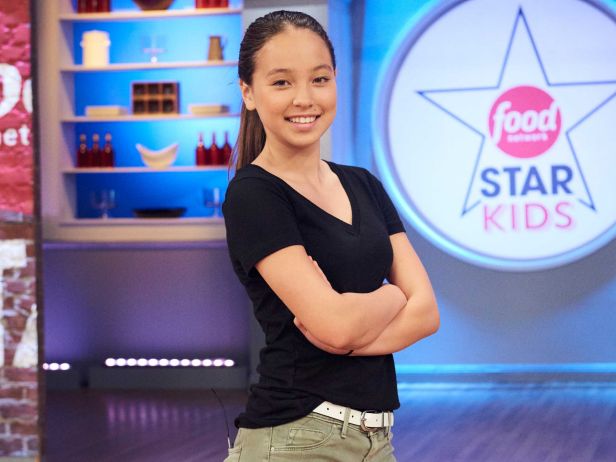 I ask Amber if she finds it difficult to be a chef, a student, and a normal teenager all at once.
"It's really hard, honestly, that's probably one of the hardest things about this whole process. I will say, though, I think of it as just sort of an outside hobby—you know, some people play soccer the whole year, and I play volleyball, so that is one big time commitment—but I think of this as another time commitment. Just as some teens have jobs, this is my "job", but we do have a project manager named Claire and without her my life would be in shambles," she says with a laugh. "It's really hard to balance everything, mainly just remembering all the different things I have to do, and she keeps us really organized. It's definitely a struggle, but I'm just glad I have people helping me through it. My entire family is sort of in this process—my mom especially—so thanks to her I'm able to balance it. But it's definitely hard, especially with homework and seeing my friends and all that."
When it comes to finding inspiration to keep her motivated, it doesn't hurt that Amber has a celebrity chef in her corner. She first connected with Jamie Oliver a few years back after entering a contest on Oliver's YouTube channel. Though she didn't win the competition, she did win praise from her chef hero, who she later met and and collaborated with in London. That's how she ended up a regular contributor on Jamie Oliver's Food Tube channel—yet another platform for her to share her passion for cooking. Amber is particularly fond of her memory of her first meeting with Oliver, when they were able to film multiple videos together.
"He is my celebrity chef idol—we have all of his cookbooks, me and my mom—we were fangirling 'cause he's so cool in person," Amber says.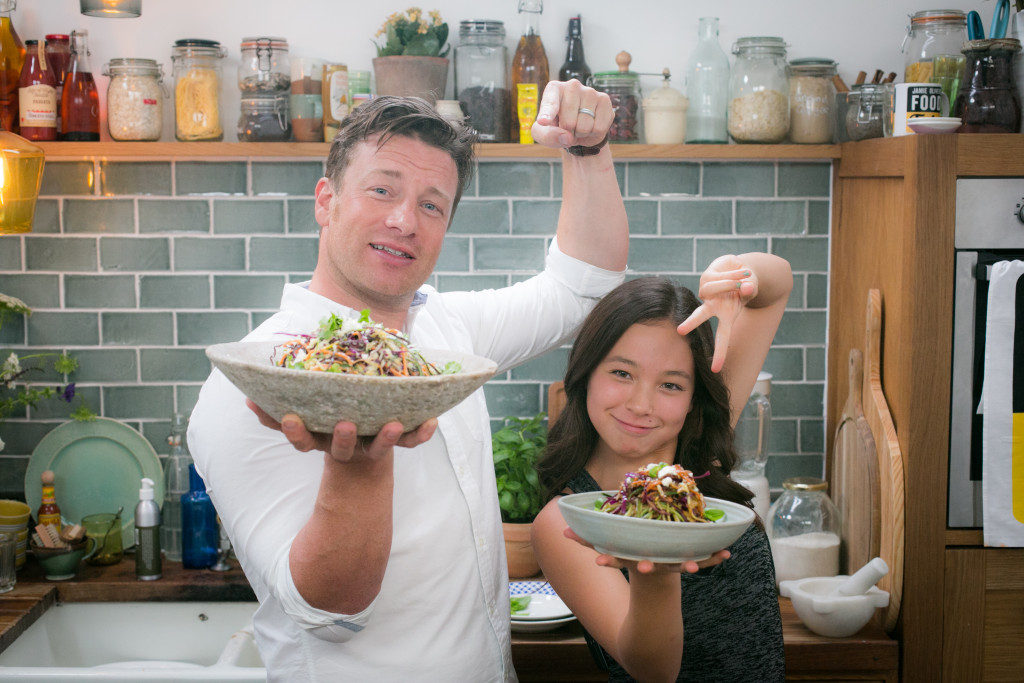 "I think what's so cool about Jamie is he knows what his food is and what his goal is, and he doesn't really listen to what other people are saying, he just stays true to his mission. And his mission really is just showing people good quality food. So my goal is getting kids in the kitchen and showing them wholesome, fresh recipes, and he told me that he loved what I was doing and he really thought that it was amazing and that I was super-passionate about it. He basically just said to stick to it, because people are going to come and go who don't like what you're doing, but as long as you have that goal in your mind, everything else doesn't really matter. I feel like, while that may be advice that you hear from every parent and every teacher, coming from Jamie Oliver who is like, my idol, just cemented it in my brain. He was really proud of what I was doing, and that made me even more inspired to keep going," Amber says.
It just so happens that our conversation with Amber falls just a few days before Halloween, so I ask Amber for tips on making the perfect, easy-to-make treat for a Halloween party.
"One of my favorite Halloween recipes I actually filmed on Jamie Oliver's Food Tube. It's basically sort of a cherry limeade that you put in this giant punch bowl, and then I show you how to decorate the outside of the bowl so it looks like blood is dripping off of it, and then we take gloves and we make hand ice cubes to look like frozen hands. It's a treat, like a drink-treat, but it's also a centerpiece!"
But way beyond this year's Halloween celebrations is a world of possibilities for Amber, and though she promises she will continue to cook and share her recipes for years to come, for now, what has already happened in her short life still feels a bit surreal.
"It's a mystery. I never, ever a couple years ago would have thought I'd have a book out by now," Amber says. "I always dreamed about it, but I never really thought that would be a reality, so it just goes to show that if you put your mind to it, you can do some amazing things."