One morning last month, 11-year-old Ezrah Dormon from Panama woke up to find that he'd gained millions of fans overnight. The blonde-haired, freckle-faced kid who has been training in the martial art Hapkido since he was only two and a half years old, and draws and paints as effortlessly as he trampolines and plays drums, has become an internet sensation for yet another passion of his. Working as a tattoo apprentice at the up-and-coming Panama City parlor called Honolulu, Ezrah is being watched all over the world as he inks clients with the composure and focus of a seasoned professional.
Since he was featured on the NYC-based parenting site www.Fatherly.com, in a video which has so far reached nearly 14 million people after going viral on Facebook, Ezrah has found a platform for not only sharing his unique ability with a world of new prospective clients, but his story with people of all ages who have been inspired by a video of a kid who is not letting anything – particularly age – stall him as he chases his ambitions. His mother, Wynter Rosen, is the epitome of a parent who is not afraid to step back and allow her son the freedom to grow and learn, while offering a steady support system and incessant encouragement every step of the way. As we speak to Wynter by email, our question and answer session turns to a heartfelt dialogue between a mother and two young adults when Wynter offers the two of us words of advice that perhaps say it all:
"Any girls you know that are fearful … show them that fear is all in your head."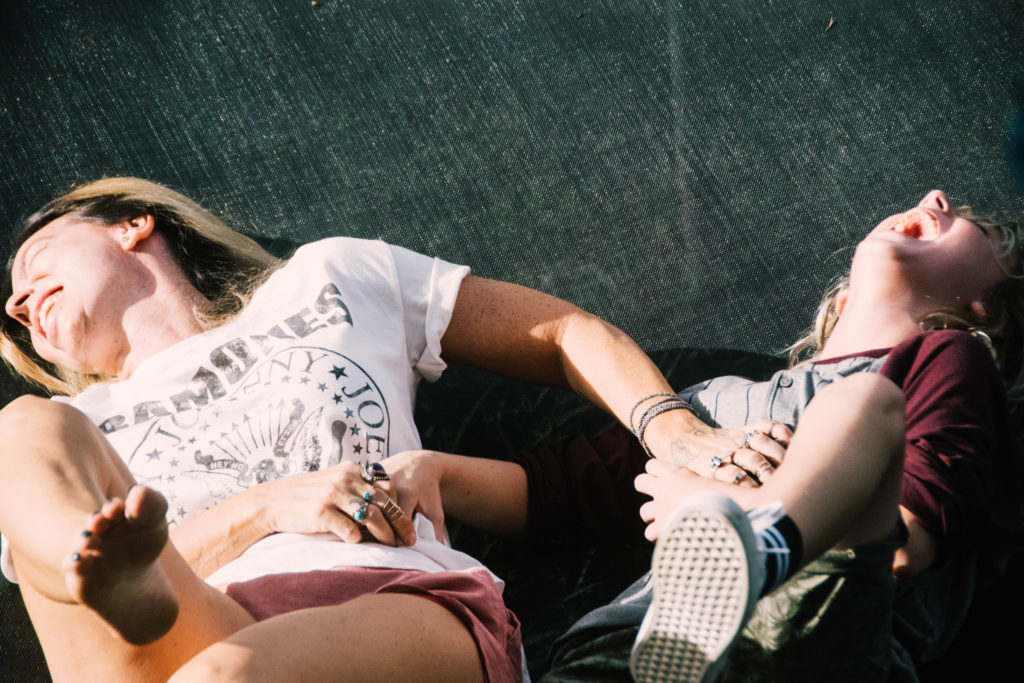 We chatted with Wynter and Ezrah about their mother-son relationship, criticism, the meaning of success, and Ezrah's signature love of sharks.
Hannah: [To Wynter] I'm sure many people would call you brave for being your son's first client as a tattoo artist. Some parents of young kids might even wonder what you were thinking! What was going through your mind when you offered up your arm to your young son holding a tattoo gun for the first time?
Wynter: I am never nervous about much to be honest. The question for me would be, why wouldn't I [allow him to]? I trust Ezrah and I know that he wouldn't ask to do something unless he was confident in himself. I also trust his Jedi (his teacher [Ali Garcia], a mentor who doesn't like to be called teacher or mentor. She is his Jedi.) I knew that between Ezrah's confidence and his abilities that he has shown throughout his short life, and her guidance, it would be fine. More than fine. In my world, I don't ever concern myself with what anyone might think or say and never base any decision on that. I was looking at Ezrah, thinking, well my sweet boy, you have found freedom.
Cailin: [To Ezrah] A lot of people search well into adulthood for their passion, their true calling in life, and it seems you've already found (at least one of) yours at only eleven years old. What do you think is the best way for a person to figure out what they truly want to do?
Ezrah: What I think should allow a person to find out what they want to do [is] they should be open and explore new and different things. For example, I didn't know that I had potential in being a tattoo artist because I always believed that I was going to be a pro flipper when I'm older. I just try everything and I really like trying new things.
Hannah: [To Wynter] Do you think the trust you put into your son has instilled confidence in him that has contributed to his success with tattooing?
Wynter: Success is when you can look in the mirror and be happy with what you see back. Success is not about money or things you own but the journey of how you get there, even if the plan you thought you had didn't work out like you might have planned, exactly. The beauty is the road you walk to get there. I feel success comes from the journey, and it's a journey that never ends. I think that Ezrah is excited about life and trying challenging things, and my words to him and my other two boys are simple ones. Be kind, be aware of the things you say and how they effect everyone around you, don't lie, don't steal, be a person of your word. Treat everyone with respect of what they believe and treat yourself kindly. Forgive and trust. Don't live in a world where fear overtakes anything you might want to do, even if it feels terrifying. You will see that what you have created in your mind is often more frightening than the reality. Believe in yourself.
Cailin: [To Ezrah] And Ezrah, what does success mean to you?
Ezrah: Success to me doesn't mean riches and money. It is when you have accomplished something that was a challenge for you. Success to me is honestly truth and doing what I say. Success to me is when you have the drive to complete something and reach a point that makes you feel happy about sticking to that goal.
Hannah: [To Ezrah] Why do you think someone should get a tattoo from you instead of from an adult with more years of life and experience behind them? What do you think makes people come to you when they can go anywhere else?
Ezrah: I think that someone should get a tattoo by me because I feel like it would be a unique experience for them. At the same time, they need to know I am still apprenticing so it is their choice knowing that I don't have years of experience yet, and maybe that's what makes it more beautiful. From what we have investigated, I think I'm the only and first 11-year-old studying and doing the traditional tattoo, so one day whoever has a tattoo from me or a piece of art will be able to tell a great story. That's what I think the clients I have had so far understand and why they come.
Cailin: [To Wynter] Have you ever been criticized by another parent for allowing your son to work as a tattoo artist at his age?
Wynter: As many people as there are who are supportive and excited for us, I'm sure there are others who criticize. However, this doesn't concern me at all. People will say what they want and choose how they want to view things. We are all entitled to our opinions and they will never sway my own ideas.
Cailin: [To Ezrah] Some adults think that there are certain things that kids aren't ready to do; careers that they should wait until they are older to pursue. I would assume that there are some people out there who would say that a kid doesn't belong working in a tattoo shop and taking real clients ​–​ the stakes are so high when you're using permanent ink and a needle on someone's skin, and you're so young! What would you say to someone who questions what you're doing at your age?
Ezrah: I am not working alone in the tattoo shop or doing tattoos alone at this time. Anyone who comes to me for a tattoo knows this and is willing. I am very careful and very concentrated. I don't speak when I'm tattooing. I listen to my favourite music and I get into my zone to do the best job I can with what I am able to do [in the moment]. I am supervised while I'm doing it. I practice everyday. I tell them, "Don't worry. I can do this." If I didn't know I could, I wouldn't. If I knew, I'm not good at this, I wouldn't ink anyone.
Hannah: [To Wynter] What advice would you give to nervous parents who have children with seemingly larger-than-life goals they want to accomplish at a young age?
Wynter: I would tell other parents ​–​ only if I'm asked, I might add, because I don't like to offer my opinion when not asked ​–​ that you need to let your kids breathe. Nervous parents just frustrate me. It's tiring. As a parent, you need to learn everyday what's going on in your kid's world. Usually, we project our own fears to them. They aren't nervous about anything until we make them.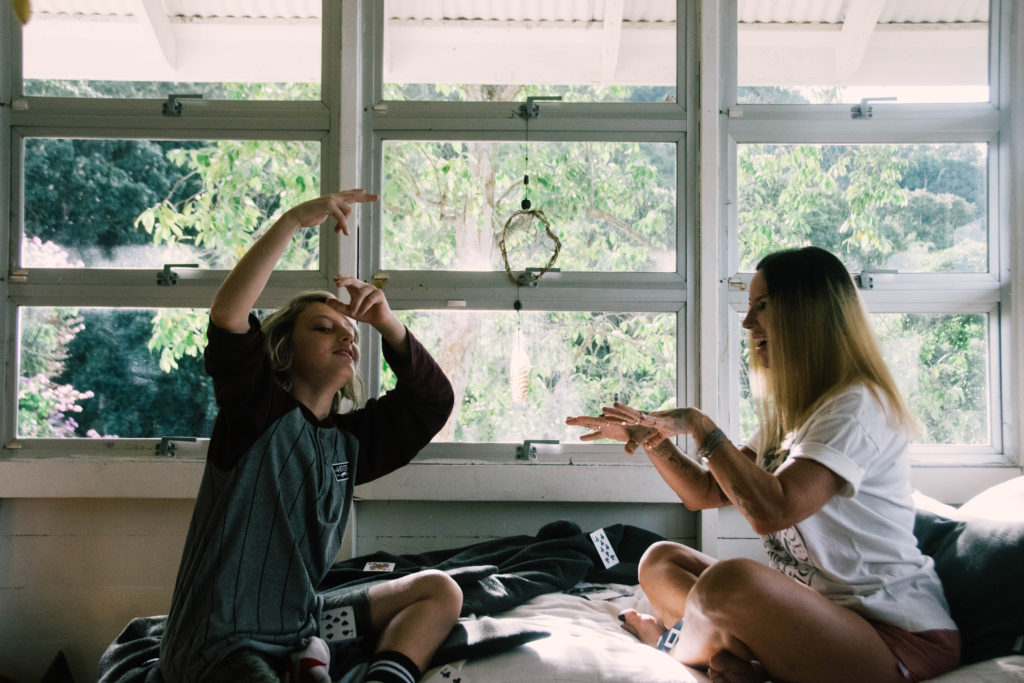 Cailin: [To Ezrah] I imagine anyone giving one of his or her first tattoos feels a bit of pressure, no matter how old or young they are, as it requires so much steadiness and focus. How do you keep yourself calm and focused as you work?
Ezrah: I'm anxious every time I start setting up my equipment. To remember exactly how it needs to be done. I remember to not feel pressure and take myself out of being anxious, take my time, concentrate. I put on my music and understand [that] all this, I have learned. Just focus and trust myself.
Hannah: [To Wynter] Whether artists are born or taught is an age-old debate. Do you think Ezrah was born with natural artistic ability, or do you think it was something he picked up throughout his childhood?
Wynter: Well…this is a question I ask myself often. The reality is, Ezrah was born with a light around him. From day one he was a smiling, happy baby. He was so easy. I don't know what anyone is born with, I just know that he has something and [I knew] from day one. The thing is, if we recognize the strengths we see in each child from the start, we can cultivate them.
Cailin: [To Ezrah] I heard that you have a special love of sharks and what you've described as "old-school" tattoo designs. What is it about sharks and the old style that draws you in?
Ezrah: Sharks…recently I had my first encounter with a shark in the sea. That was scary and thrilling. Sharks are something I feel I have a big connection with, because sharks are one of the most misunderstood creatures of all time. I feel like sometimes in school, or anyplace, I can be misunderstood. I feel misunderstood because sometimes other kids don't understand how I think. This is why I relate. Traditional tattoos…mostly what got me was the colours. A simple piece of art means so much because traditional art is so creative; for me it looks different. After watching the Sailor Jerry documentary, it made me want to continue to specialize in this. I just really think it's art.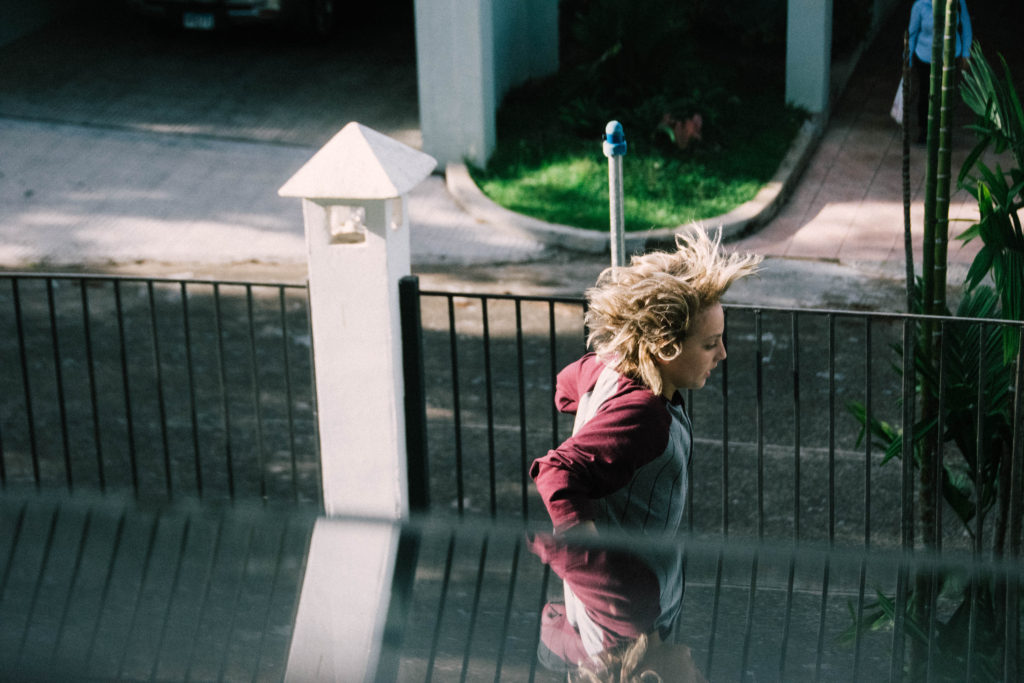 Find Ezrah on Instagram:
https://www.instagram.com/eztheshark/
Honolulu Tattoos:
https://www.instagram.com/honolulutattoos/
For a tattoo by Ezrah: Ali Garcia (AKA Margarita Marzo, "Jedi"): https://www.instagram.com/margaritamarzo/